The Wake Up and Dream Challenge Newsletter 8 November 11, 2012

To all the Clients, Fans, and Friends who receive this newsletter,
           Since many of you are in the Tri-state area impacted by hurricane Sandy. I hope that you are well and dealing with the aftermath as best as possible. Before the storm I saw a great photo which I posted on my facebook page (http://www.facebook.com/TheWakeUpAndDreamChallenge) in the photo, it shows a glass 1/2 filled and it says something like: Stop worrying about whether  the glass is half filled or half empty, just be glad you have a glass and that there is something in it." In the aftermath of Hurricane Sandy, that message is even more significant. I will be writing a post on my blog about it & posting it if I can get onto the internet here at a comfortstation in Weston CT where I live. The town is very prepared since this is the third time in about a year and a half that we have lost power for exteneded periods of time. We lost it for 2 weeks after Irene, so I  am reluctant to believe the week to 10 day predictions from CL & P.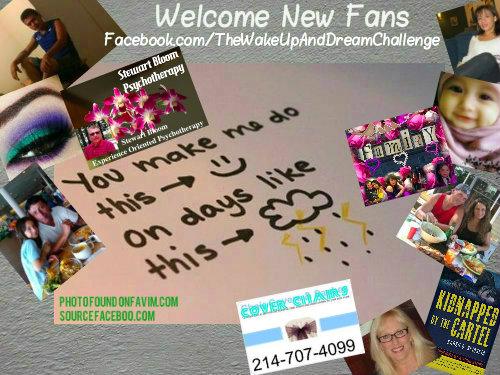 Here in Weston, they have hot breakfast & coffee for $2.00, showers & internet access all day. So, even though there is no electricity at home, the glass is here & filled with good things & helpful people. Everyone is helping & supportive of one another in a town where you rarely see your neighbors, it is refreshing.
          Two trees fell on & near my driveway. One covered my mailbox & blocked the road. The town removed the tree from the road so that cars could pass, but jerry & I started whittling away at the tree & vines that blocked our mail box. A neighbor drove by & we waved. They turned around and the godson of the neighbor who had come from Massachusetts offered to bring out his chain saw & help us remove both trees! So I met some wonderful neighbors!
           I know that many people have more to contend with having lost their homes and some people have lost loved ones. The challenges they face pale in light of the inconveniences most people are dealing with. If you know someone who has suffered a loss, reach out to them & be the contens of the glass to help them through their loss.
           I would love to hear from you to know how you are doing as well. If your story could help someone with their challenges, let me know if it's OK to tell your story on my blog. (http://wakeupanddreamcatalyst.blogspot.com/) .
                      More news will follow about my website & the book!
                                 Barbara